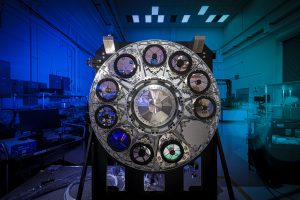 Engineering and Technology Directorate
The Engine That Powers Goddard
Goddard encompasses major laboratories and facilities for developing and operating unmanned scientific spacecraft. The largest organization at Goddard is the Engineering and Technology Directorate (ETD). Goddard has six distinctive facilities & installations. ETD has employees at the Greenbelt main campus in Maryland, Wallops Flight Facility in Virginia and White Sands Test Facility Ground Stations in New Mexico. The ETD achieves this within Goddard's laboratories and those of the valued present and future partners.
Mechanical Systems Division
Code 540
The Mechanical Systems Division provides mechanical systems-centric hardware, services and focused technologies.
Electrical Engineering Division
Code 560
The Electrical Engineering Division provides electrical engineering expertise in the development of electrical and electronic systems for suborbital and space-based projects.
Software Engineering Division
Code 580
The Software Engineering Division provides expertise in software systems engineering, secure environments, and the software product development lifecycle to ensure the delivery of reliable software and information systems.
Mission Engineering & System Analysis Division | Code 590
MESA's vision is to revolutionize future Earth and space science and exploration missions through mission, payload, and instrument systems engineering, mission design, navigation, propulsion and attitude control system technologies.
An End-To-End Science Mission Operation
The Engineering and Technology Directorate designs missions, builds satellites and instruments, operate and control spacecraft and acquire and distribute data to the world-wide science community.
The ETD recruits and hires the best and the brightest from across the nation to bring together the largest collection of scientists, engineers and technologists under one roof. With their help, NASA's Goddard Space Flight Center can implement and create cutting-edge technology that aims to advance and expand the understanding of the observable universe and further explore the Moon and Mars. The expertise that the directorate has includes:
Advanced technology for tracking and gathering scientific data.
Hands-on operational knowledge of how to successfully implement space science missions.
A fundamental and strategic system engineering approach to tackle new challenges and advance the needs of research.
The ETD's staff is supported by unique world-class facilities, and the ability to apply emerging technologies to develop high-performance, cost-effective solutions to the most challenging problems in science and exploration.
Additionally, Goddard Engineering is committed to cultivating and maintaining a work environment of trust, respect and opportunity for all members. The directorate promises a diverse workplace which will enable its workforce to achieve individual success and maximize personal contributions while fulfilling an objective of product excellence.